Hong Kong Diaries
By Karishma

Hong Kong (whilst it's fresh in my mind)
As part of our project, Kylie and I are travelling to each other's cities to learn new ways of working, to study local culture, art and visionaries and to make our project as well informed as possible. During our two travel trips, we will also be looking at visionaries who have helped to transform their cities in ways both big and small.

DUB to HKG
For the past two weeks, I have been exploring Hong Kong's art and culture and working on ideas and content for our project.
After taking a 12 hour flight from Dublin to Hong Kong, I was greeted by Kylie at Hong Kong station. She had bright pink hair and was excited to show me her hometown. After unpacking at her flat, she handed me an amazing illustrated map of the area her flat is in - Wan Chai - that she had created for the BODW City Programme. Kylie works as a freelance illustrator in Hong Kong and she recently collaborated on some illustrated tourism books called The Illustrated Unguidebook.

I knew I'd end up forgetting what happened on what day during my stay, so I wrote it all down in a trusty notebook. These are some of the highlights of my trip to Hong Kong and the places that provided the best inspiration for A Tiny History:
Hong Kong

Odd One Out
We started the trip by visiting Odd One Out Gallery, the place that will be hosting our work in summer 2019. It is one of the go-to places for creative folk in Hong Kong and focuses on printmaking, zines and illustration and Kylie also sells her work in their store.
Kylie took me on a trip around her neighbourhood, showing me everything from the best place to get breakfast to a shortcut into the MTR metro down several escalators and a shopping mall. Transport is incredibly affordable in Hong Kong and very clean as well. Trams around the city are the cheapest way to travel and cost around $2.60 HKD for an adult which is around £0.25.
Tai Kwun
The Hong Kong Jockey Club supports many community, heritage and arts spaces and we visited one of these - Tai Kwun Centre for Heritage and Arts - the former Central Police Station HQ. Purcell UK in collaboration with architects Herzog & de Meuron and Rocco Design Architects regenerated the site. Tai Kwun has dedicated areas for heritage storytelling about the people that once lived and worked in the area. It is also home to JC Contemporary - a centre for the arts.
Suncolor Print
Kylie suggested that we take a behind-the-scenes tour at a typical HK Print Factory. We visited Mr Sunny Ng, the owner of Suncolor Print in the Aberdeen neighbourhood of Hong Kong. One of the most interesting things we saw was the bookbinding which had many elements of hand-finishing.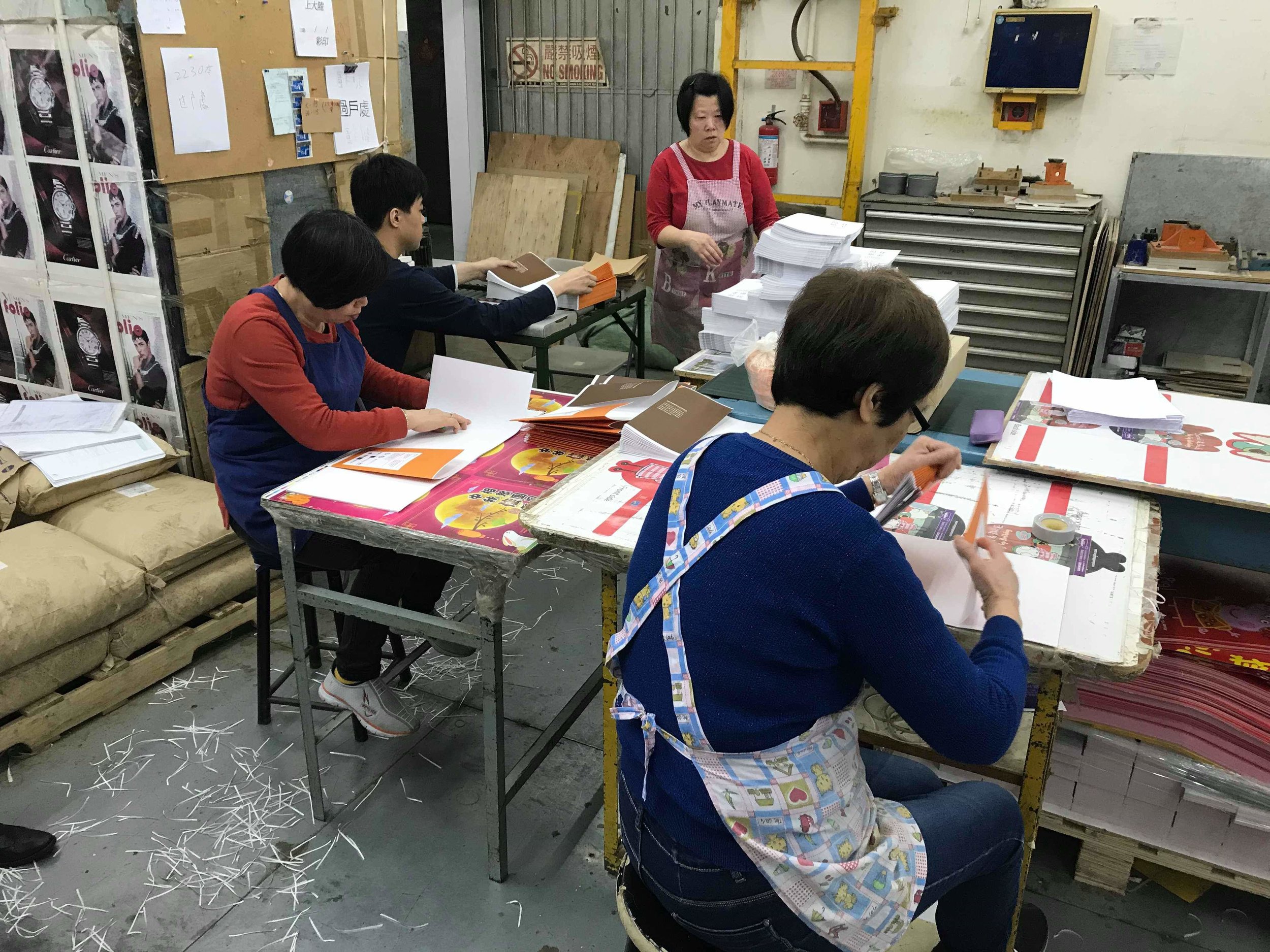 JCCAC
JCCAC (Jockey Club Creative Arts Centre) is an arts space in Shek Kip Mei where artists and designers occupy every floor of the building in studios and retail units. We visited An Gee Chan and Justin Larkin who are both multidisciplinary artists and lecturers. They work creating print, ceramics, jewellery and more in their studio in JCCAC. They chatted with us about their processes and some of the collections they have worked on.
Tai O
We travelled quite a bit further out to a fishing village called Tai O where all the houses are built on stilts above the water. Local artists and artisans still live and work in Tai O and the focus is on old ways and methods and making sure these are preserved. Even the street art is inspired by calligraphy.
The Mills
The Mills - a group of former cotton mills in Tsuen Wan - has become an arts and heritage hub for Hong Kong. Street art decorates the exterior of the building whilst downstairs in the foyer there is a special exhibition space. The exhibition running when we visited was of Ah Chung (Yim Yee-King), a famous HK political satirist and cartoonist and it was interesting to see how the exhibition had been curated and laid out - there were dedicated spaces for those wanting to take Instagram-able photographs in order to attract different kinds of visitors, and this was a trend we saw across many of the arts spaces.
We attended the launch of a new bookstore and event-space by Book B. It was interesting to see the independent publications in the space as well as lots of zines by local and Taiwanese creatives.
Blue House
Down the street from where Kylie lives in Wan Chai is Blue House which hosts the Hong Kong House of Stories - a community led shared space focusing on heritage and stories. The building itself is fascinating as it is a traditional "tong lau" or tenement house from Hong Kong.
PMQ
PMQ (Police Married Quarters) is yet another space that has been sensitively conserved and used as a retail space for art and design. Downstairs is an interactive space and when I visited, "Draw HK" was on which showcased drawings by students, plus large-scale commissioned pieces created by professional local artists.
One of the most interesting things in PMQ was the Glocal Mahjong exhibition which was about the current and future development of the Mahjong game - a traditional recreational game that is still incredibly popular in Hong Kong.
AAA - Asia Art Archive
The Asia Art Archive in Sheung Wan is on the 11th floor of the Hollywood Centre and contains a library and archive of contemporary Asian art. I was given a tour around the space and then spent some time looking through their vast collection. I particularly enjoyed finding out more about Hong Kong's political artist-activists and zine scene as well as the Vivan Sundaram archive.
Hong Kong Museum of History
The "Hong Kong Story" was told in the Hong Kong Museum of History through a series of sets starting with the city before people lived there to how modern Hong Kong came to be. There were several full scale sets of what elements of the city would have looked like, such as tea houses, apothecaries and banks.
HK Walls
HK Walls Street Art & Mural Festival is an annual event in Hong Kong focusing on artist development - both local and international - as well as raising awareness through the arts. In the Sheung Wan area of Hong Kong, there were several walls of street art from 2018 with storytelling elements throughout.
The best of the rest
Alongside the project work, one of the visit highlights was seeing the Hong Kong skyscrapers from the Star Ferry in Victoria Harbour when the 8pm lightshow was on. The buildings were lit up in neon and patterns flashed across them.
The food in Hong Kong was just amazing and Kylie encouraged me to try lots of local fare - congee, dumplings (my favourite), HK milk tea, flower tea, mochi, bubble waffles, choy sum, char siu and seafood including dried BBQ squid and jellyfish.
What's next
At all of the places we visited and research we conducted in Hong Kong, we looked into the key people involved - the visionaries. We will be using this research as part of the project showcase and do something similar with Belfast / Northern Ireland. Some of the processes we have considered to visualise the visionaries are stamp making and printmaking for the physical part of the project and then connecting this to the story / content / digital portion of the project. We will be following up with those we spoke to during the trip to gain some more insight into their work.
A Tiny History is kindly supported by the Artists' International Development Fund by the Arts Council NI & British Council :